Lisa Janisch - Founder/Broker
Known for her personal integrity and unending drive, Lisa became a Realtor as an evolution of her career in construction. A fifth generation carpenter & millwright, she was the first female carpenter in the Iron Range Union and over the years advanced through the field until obtaining a Superintendent position. One of her last projects was a $500M international wind energy project overseeing 300 employees.
Lisa founded Janisch Realty in 2012 after recognizing the need for a real estate firm that could change the industry by raising the standards of integrity and service. She saw the need for a real estate firm that could work with all types of clients with trust and respect. Now in her tenth year of real estate, Lisa has distinguished herself as a leader. Prior to starting her own firm, Lisa worked for a national franchise for five years, where she was one of their top agents and achieved a designation as the only premier property agent in her region.
As Broker of Janisch Realty, Lisa oversees the strategic and day to day operations of the company. Her style is to work closely with clients in order to give them the level of dedication and service they deserve. Her honest, straight-forward management style and knowledge of the area, market trends, construction techniques and real estate negotiations have helped to set Lisa and her company apart.
While the Broker of Janisch Realty, Lisa has been appointed to the Minnesota Association of Realtors Professional Standards Committee, which upholds the Association's Code of Ethics.
When she's not striving for excellence in the real estate business by building and supporting her team of top agents, you might find Lisa learning to fly a floatplane. Originally from Ely, Lisa currently lives on Lake Vermilion with her husband Dan, who is also a Realtor with the Janisch Realty team.
Erin McCarter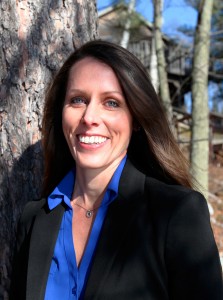 Erin, a licensed real estate agent in Minnesota, grew up in south central Iowa and has had quite the journey to Northeastern MN. After flying to Australia and meeting her future husband, who grew up in Embarrass, Erin began the first leg of her transition with a move to Hudson, WI.
While in Hudson, Erin graduated from the University of WI-River Falls with a Bachelor's of Arts and Science in Biology and later attended Le Cordon Bleu College of Culinary Arts in St. Paul, where she earned an Associate Degree in Culinary Arts.
Prior to moving to Northeastern Minnesota, Erin worked at an oil refinery in St. Paul Park, where she provided administrative and project scheduling duties. In addition, during the summer, Erin could be found driving a trolley in Stillwater, MN, giving narrated tours about local architecture, history and folklore. For fifteen years, Erin and her husband had a property rental business.
Currently, Erin, her husband, their two boys and their dogs live on beautiful Lake Vermilion where she enjoys cooking, entertaining, fishing and exploring the outdoors.
Erin's honesty, knowledge of the area, and hard-working commitment to exceptional client care set her apart. She is comfortable around all kinds of people and can appreciate them for who they are and for their personal experiences. She looks forward to helping people find the property that is the right fit for them.
Dan Janisch - Agent
Dan joined the Janisch Realty team as a licensed Realtor in 2013 after acting in a supporting role for the previous 7 years. Dan has a background in commercial construction management and has managed the construction of some of the most dynamic projects on the continent. He was also previously the director for a Renewable & Wind Energy Technology Program at a local College. He holds a BA in Construction Management from the University of Wisconsin.
While at the UW he spent four years in the Badger Marching Band and was fortunate to travel to the Rose Bowl in 1999.
Dan works directly with clients as a Realtor and also oversees the Vacation Rental Management and Information Technology operations of the company. His honest, straight-forward style and knowledge of the area, market trends, construction techniques and real estate negotiations have distinguished Dan as a leader. He works closely and respectfully with clients from all walks of life and loves helping clients achieve their dreams.
Originally from Janesville, WI, he lives on Lake Vermilion with his wife Lisa and their canine companions.
Dawn Dahl - Administrative Manager
Dawn has worked in the Real Estate Field for over 8 years. She brings an expertise to the administrative side of Janisch Realty that ensures our clients the utmost level of service. Dawn has an Iron Range heritage. She and her husband, Brad, grew up in the Tower area. After graduating from Bemidji State University with an Office Administration Degree, Dawn married Brad and moved to Virginia, MN. They have resided in Virginia for the past 23 years. Together they have raised their 3 children, Nathan, Kara & Jared. Dawn and her husband enjoy traveling. Her favorite travel location is St. Maarten located in the Caribbean. During the summer months, Dawn enjoys spending time at her family cabin on the Eagles Nest chain of lakes.